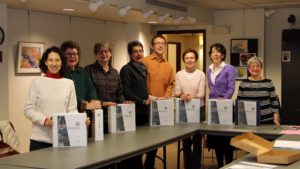 Warrant Article  (Annual Town Meeting, April 2017)
In January, the Board of Library Trustees put the finishing touches on an application for a state library construction grant to help build a proposed new library building on town-owned land at 195 Main Street, the site of the former Highway Department garage.
Wayland voters will be asked to endorse the grant application at Annual Town Meeting, which starts on Sunday, April 2.  This article is the final required step in the state's application process and will ensure that Wayland's application is considered.  It does not request funding at this time; this would occur at a later date if Wayland receives a grant.  If awarded, the grant would contribute approximately 40% of eligible construction costs for a new library building.
ARTICLE 11:  LIBRARY CONSTRUCTION GRANT APPLICATION:  ACCEPTANCE OF PRELIMINARY DESIGNS AND PROCEDURAL AUTHORIZATIONS
Proposed by:  Board of Library Trustees
To determine whether the Town will vote to:
a.)  accept the preliminary design for the construction of a new library at 195 Main Street as recommended by the Board of Library Trustees, the Library Planning Committee and the Permanent Municipal Building Committee; and
b.)  authorize the Board of Selectmen and/or the Board of Library Trustees to apply for, accept and expend, without further appropriation, but with the approval of the Permanent Municipal Building Committee, any state funds which may be available to defray all or part of the cost of the design, construction and equipping of the new library building, including, but not limited to, a public library construction grant from the Massachusetts Board of Library Commissioners.