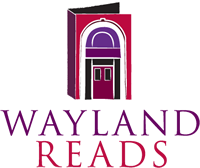 If you missed one of these Wayland Reads 2017 events, watch the recording by WayCAM!
Anthony Amore, author and Director of Security at the Isabella Stewart Gardner Museum
Judy Shurgin's presentation on Isabella Stewart Gardner and her art
Wayland Reads is a community-wide endeavor that strives to build community through a shared reading experience.   It happens every other year and this will be our 5th Wayland Reads.  We hope you'll join us!  This year, we'll read about the famous Isabella Stewart Gardner Museum heist to consider the value of art while looking at the science of forgery.  Events will take place March and April.
Selected Titles
The Art Forger by B. A. Shapiro
Master Thieves:  The Boston Gangsters Who Pulled Off the Greatest Art Heist by Stephen Kurkjian
Moxie and the Art of Rule Breaking by Erin Dionne
For a full list of events with details, click here.  
Events
Friday, March 17 at 7 p.m-9 p.m. – Kick-off Event and Arts Wayland Artist Reception
March 17 – March 25 – Hidden in Plain Sight, an Arts Wayland Art Show
Wednesday, March 22 at 7 p.m. – Author Talk with Stephen Kurkjian, author of Master Thieves
Monday, March 27 at 7 p.m. – Anthony Amore, Director of Security at the Isabella Stewart Gardner Museum speaks on Notorious Heists, Fakes, Frauds and Forgeries of the Art World
Tuesday, April 4 at 2 p.m. – Book Discussion of Master Thieves
Friday, April 7 at 1 p.m. – Movie Showing:  Thomas Crowne Affair
Saturday, April 8 at 2 p.m. – Discussion Panel on The Value of Art:  What Does It Mean to You?
Thursday, April 13 at 1:30 p.m. – Documentary Showing:  Mystery of a Masterpiece
Thursday, April 20 at 7 p.m. – Book Discussion of The Art Forger
Tuesday, April 25 at 7 p.m. – "The Art of Deception" with Skinner Auctioneer, Robin Starr
Tuesday, May 2 at 1:30 p.m. – Art History Talk with Judy Schurgin (NOTE:  Date changed.)
Wednesday, May 3 at 7 p.m. – Author Talk with B. A. Shapiro, author of The Art Forger
Sunday, May 7 at 10 a.m.  – Guided Tour of SoWa with Artist Nasser K
Youth Events
Monday, March 20 at 4 p.m. – Art Workshop with Artist Margie Krakauer
Tuesday, March 21 at 7 p.m – Author Talk with Erin Dionne, author of Moxie and the Art of Rule Breaking
Wednesday, March 22 at 3 p.m. – Make Your Own Masterpiece Workshop
Wednesday, March 29 at 3 p.m. – Make Your Own Masterpiece Workshop
Tuesday, April 18 at 2 p.m. – Artful Adventures:  Painting with the Museum of Fine Arts
Wednesday, April 26 at 3 p.m. – Make Your Own Masterpiece Workshop
Thursday, April 27 at 7 p.m. – Book Discussion of Moxie and the Art of Rule Breaking
Suggested Further Reading & Viewing
Thirteen Works:  Explore the Gardner's Stolen Works – A website created by the Isabella Stewart Gardner Museum
The Art of the Con:  The Most Notorious Fakes, Frauds and Forgeries in the World by Anthony M. Amore