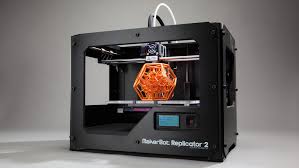 What we have
We currently have a Makerbot Replicator 2.  It prints in PLA only.  This may change in the future, if we become able to print in different filaments they will be listed here.
How do I print something?
All we need is the .stl file attached to an email (send to: tkenney@minlib.net).  If you are designing it yourself, there should be an 'export' or 'download as' option – use that, and then just make sure you are selecting '.stl'.  Most sites that you download models from will automatically download as '.stl'.  Alternatively, you can simply email the link for the model you wish to print.
How do I download something that is already made?
Use sites like:  thingiverse.com, yeggi.com, myminifactory.com, youmagine.com, or pinshape.com
How much does it cost?  What colors?
Printing is totally free!  The only restriction is time.  We cannot accept print jobs that exceed 8 hours.
Available colors:  White, Red, Green, Clear, Beige, Grey Black, Yellow, Pink, Purple, Light purple, Blue, Light blue, Orange
How do I design something on my own?
We occasionally have introductory design classes here at the library.  If you would like to sign up for one, view our events page.  We also have the tutorials available for download on our website.  A lot of design software will also offer discounts, or be totally free, for educators and students.  If you're looking for advice on good design software:
Additional comments or questions?
Please send to: tkenney@minlib.net