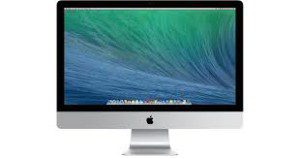 Our iMac is currently located in the Teen Zone.  While it is meant for teen/student use, adult patrons are welcome to use it during school hours.  It is loaded with the follow:
"Adobe InDesign is a desktop publishing software application produced by Adobe Systems. It can be used to create works such as posters, flyers, brochures, magazines, newspapers, and books."
Adobe Photoshop is software commonly used to edit graphics, photographs, and videos.
The rest of Adobe CS6, or their creative suite, which includes Acrobat, Premiere Pro, After Effects, and Illustrator.
Microsoft Office
Anime Studio Debut and Manga Studio, 2d illustration and animation software.
Final Cut Pro, video editing software.
Blender, used for 3D design and animation, can also be used for 3D printing.
Information courtesy of wikipedia.org