Wayland Summer Read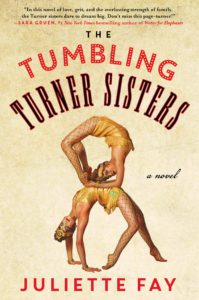 This summer we're reading The Tumbling Turner Sisters by local author Juliette Fay.
This is historical fiction telling the story of a family who performs vaudeville after falling on hard times.  Check out the author's website for more information.
Take the book with you on your summer travels and join us in September for a discussion with the author Sunday, September 18 at 3 p.m.
EVENTS
Wednesday, June 8 at 7:00 p.m. – Juliette Fay's book launch at Sandy Burr.  Juliette will present the book and the historical research that went into it.  Note the location:  Sandy Burr.
Tuesday, August 16 at 1:30 p.m. –  If you missed the presentation at the book launch, Juliette will reprise it for the Council on Aging.  All are welcome.  Note the location:  Council on Aging.
Sunday, September 18 at 3 p.m – Book discussion with author Juliette Fay in the Raytheon Room of the Wayland Library.
FAQ
Q. What is Wayland Summer Read? 
A. This is a new program in which we invite the community to have a shared reading experience.  There will be extra copies of the book available in the library for you to take on your summer adventures.  We hope you will join us for a book discussion with the author September 18.  Until then, talk to your neighbors and see what they think of the book.
Q. Who is Juliette Fay?  
A. The author is a Wayland resident and active member of the community.  Learn more about her and her work on her website.
Q. How do I get a copy of the book?
A. The library has several copies available.  Inquire at the library to reserve a copy or check out an express copy.
If you have more questions, contact Rachel Sideman-Kurtz at rsideman@minlib.net