Book Club in a Bag
---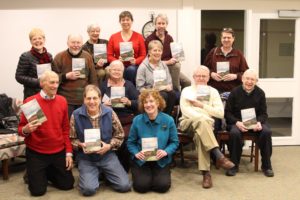 From a patron: This is the photo I took of the First Parish book discussion on J.D.Vance's Hillbilly Elegy. The event was part of Winter Session 2017.  It was promoted it as a facilitated discussion about the book that the New York Times described as a "tough love analysis of the poor who back Trump." Books were made available through the library's Book Club in a Bag program. Many of the participants were amazed that WPL had such a program. 
Is your book club tired of having to track down multiple copies of a book for your next meeting? With Book Group in a Bag, receive 10-12 copies of one title, plus discussion resources and tips for a successful book group.
Circulations are for six weeks and reservations can be made up to a year in advance.

Plan to overlap your reservations; you can distribute the next book and collect the last book at the same meeting.

Pick up and return Bags to the Circulation Desk at the library.